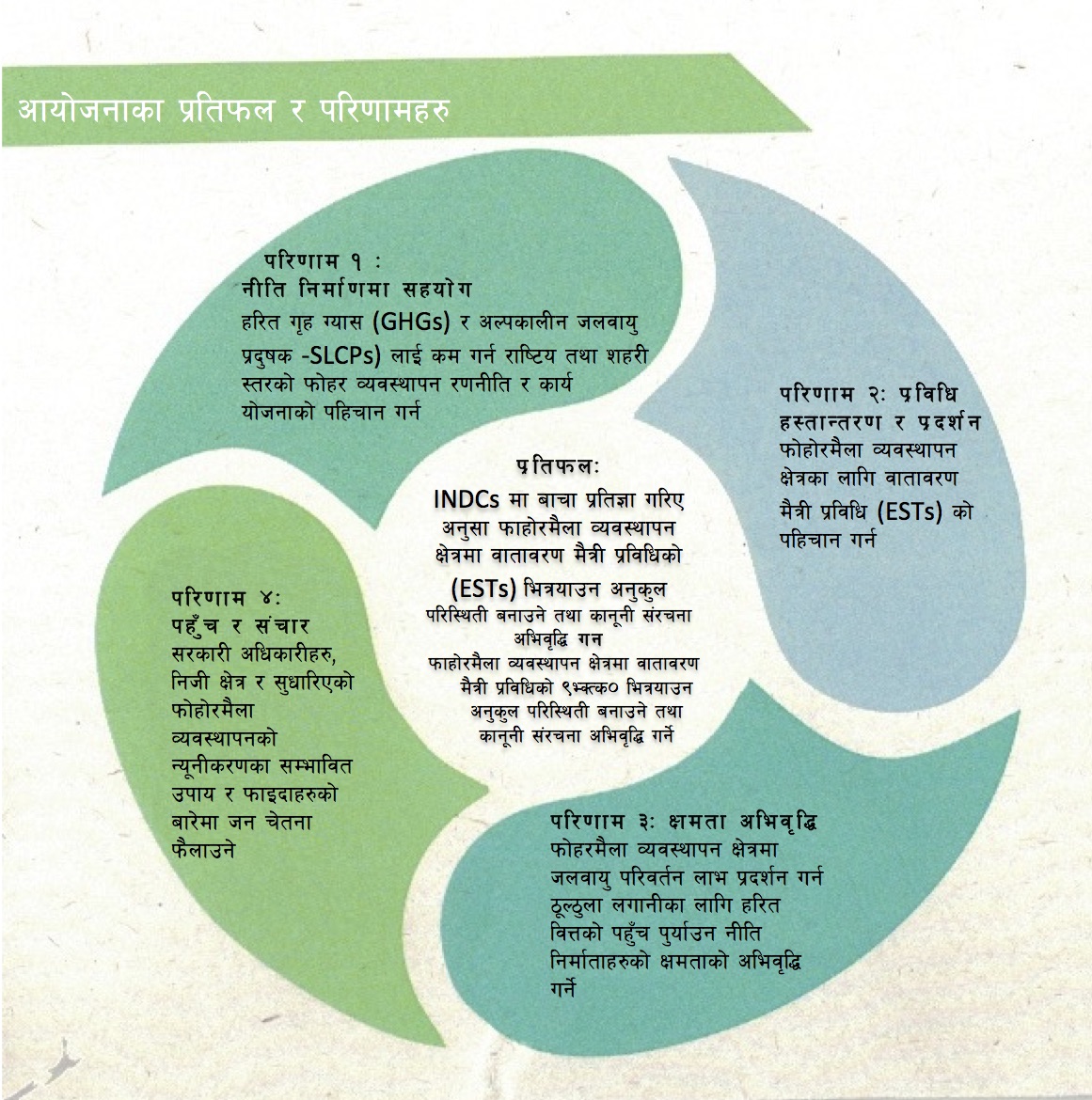 Background
Waste management is one of the most pressing urban challenges. Cities in Nepal are no exception; both national and local authorities face considerable challenges in managing waste. Yet, managing solid waste is still not on a priority of local municipalities as the demand for other public services is much higher in many municipalities in Nepal (ADB 2013). Most of the waste generated in cities in Nepal is poorly handled where waste often ends up in the open dumpsite. Open burning of waste is also prevalent. These malpractices together with the poor condition of waste handling equipment and old and rundown transportation vehicles (carbon-based fuel used) lead to emissions of the greenhouse gases (GHGs) and short-lived climate pollutants (SLCPs) often linking the waste sector to the climate change phenomenon. To strategically tackle the solid waste management challenges, Nepal has ratified national Acts and local Declarations. The Solid Waste Management Act (SWMA) 2011 is one of the regulatory efforts. Nepal has also identified the reduction of GHG emissions and adopting a low-carbon development pathway through its Climate Change Policy and (Intended) Nationally Determined Commitments (I/NDCs). Nonetheless, there are various degrees and layers of policy, institutional, technology and financing challenges in achieving the waste and climate change objectives. Realizing these baseline scenarios, it was felt necessary to strengthen the capacity of policy makers and practitioners to tap unused potential of mitigating GHGs and SLCP emissions generated from the waste sector by developing an evidence-based policy, enabling regulatory framework, innovative financing mechanisms and adoption of the environmentally sound technologies (ESTs) for pursuing sustainable waste management efforts in Nepal.
The implementation of the project titled "Strengthening the capacity of policymakers and practitioners in Bhutan, Mongolia, and Nepal to reduce GHGs and SLCPs from the waste sector, based on the circular economy concept (the WCC project) is hence expected to make the linkages with waste and climate change and work towards achieving sustainable waste management while exuberating climate co-benefits. The WCC project is funded by the German Federal Ministry for the Environment, Nature Conservation, Building and Nuclear Safety (BMUB) International Climate Initiative (IKI), and the United Nations Environment Programme International Environmental Technology Centre (UNEP IETC). The WCC is a four-year (Aug 2017 – Aug 2021) project with multiple partners involving government actors, non-governmental organization, the private sector, and civil society working towards sustainable waste management. In Nepal, the Ministry of Federal Affairs and General Administration (MoFAGA) is the government partner institution, and the Leadership for Environment and Development (LEAD) Nepal – a nongovernmental organization is the executing partner that will oversee the overall project management activities and report to the UNEP IETC. The overarching goal (or outcome) of the WCC project is to capacitate key actors (policymakers and key waste sector stakeholders) to implement enhanced legislative formworks, creating enabling conditions for the introduction and uptake of suitable environmentally sound technologies (ESTs) in the waste sector, while contributing to the achievement of the pledged (intended) nationally determined commitments (I/NDCs) and towards SDGs through four work packages;
WP1: Policy design and development of integrated waste management strategies,
WP2: Technology: identification of suitable ESTs to mitigate GHGs and SLCPs emissions from the waste sector,
WP3: Finance: development of bankable project proposals for the demonstration of the ESTs, and
WP4: Awareness: communication strategy and plan and awareness raising packages
| | |
| --- | --- |
| Date | Activities |
| December 2017 | Regional Training in Waste sector in Bhutan, Mongolia, Nepal, Thailand |
| March 2018 | Baseline Survey Conducted |
| 18 March 2018 | Marking World Recycling Day 2018 |
| 14 June 2018 | Inception Workshop and baseline findings consultation workshop |
| End of June 2018 | Produced draft Baseline Assessment Report |
| End of July 2018 | Produced draft National Integrated Waste Management Strategy and Action Plan |
| 22-25 October, 2018 | International Solid Waste Association(ISWA) |
| 25-26 December, 2018 | Sub National Consultation on city level strategy and action plan preparation in Solududhkunda Municipality |
| March 2019 | Expanded Baseline Survey Conducted |
| 2-4 March, 2019 | Sub National Consultation on city level strategy and action plan preparation in Birendranagar Municipality |
| 26 March -1April, 2019 | Observation visit for waste management status of Surkhet Valley and Bheri Valley of Surkhet District and regional training on SLRM system by its developer Mr. C. Srinivasan |
| 13 -17 March, 2019 | Marking Global recycling Day 2019 in Kathmandu, Nepal |
| 22 April 2019 | Workshop on mainstreaming gender into waste   management of Nepal |
| 23 April 2019 | National Workshop on Waste Management and Occupational Health Hazard |
| 10 June 2019 | Marking World Environment Day |
| June, 2018-June 2019 | Contributed in drafting and finalizing Gender and Waste Nexus Report |
| 10 June 2019 | Short movie and documentary preparation on integrated waste management |
| December 2017-till | Technical committee meeting (several conducted) |
Please read more in the annual reports of LEAD Nepal of 2017/18 and 2018/19 fiscal years.